Tarek Mentouri, the former massage therapist accused by 19 women of sex crimes, pleaded guilty in late November to six crimes, including felony sexual battery, as part of a plea deal that will place him on the sex offender registry and sentence him to prison for six years.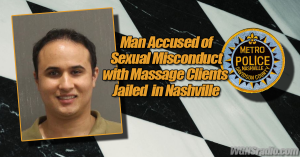 Mentouri pleaded guilty to three felony counts of sexual battery, two misdemeanor assault/provocative contact charges, and one misdemeanor charge of criminal impersonation. As part of the plea deal, Mentouri will be eligible for consideration of early release from prison after serving 30% of his six-year sentence.
"If I get to see him in a jumpsuit, that's kind of nice for me," said Peyton Parker, the first woman to contact Nashville news outlet WSMV4 Investigates after she said Mentouri sexually violated her during a job interview.  Mentouri pleaded guilty to sexual battery in Parker's case. "He's awful, and he did awful things to people, and they've had awful experiences," April Parker, Peyton's mother, said.   His is trial on the sex crimes was set to begin next year.
The most serious charge Mentouri faced, a rape charge, was dismissed as part of the plea when prosecutors realized the evidence available would most likely not result in a successful verdict on that charge.
Still, Nashville Assistant District Attorney Sarah Wolfson Butler said:
"We are very pleased with the outcome and knowing that this sexual predator admits to his actions. Our office fought vigorously for every victim on this case. Ultimately, we have to weigh the evidentiary strength of each case and a large part of that assessment is victim cooperation. We deeply respect and appreciate the patience and support of the many victims in this case. Thanks to their efforts, this predator is off the streets."
Prior to the deal, a zoom meeting with as many victims as the district attorney's office could come in contact with was held and all of the victims agreed to the plea deal.
"I'm satisfied as I can be with what we got," Peyton Parker said. "Getting any jail time for him is great and having him on the sex offender registry is extremely important. He obviously did more serious crimes, and it would be great if he had been convicted of those. But you've got to take what you can."