Glenn R. Funk
District Attorney General of Metropolitan Nashville & Davidson County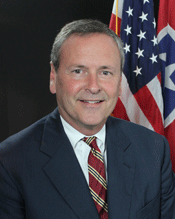 Glenn R. Funk was sworn in as District Attorney General of the 20th Judicial District by Gov. Bill Haslam on August 28, 2014. He became Davidson County's 36th District Attorney and only the third since 1966.
A Veteran of the Courtroom
Glenn Funk is a veteran trial attorney with 29 years experience in the courtroom. He has been a special prosecutor, an assistant district attorney, a public defender, and an attorney in private practice. A proud husband, father and community volunteer, Glenn is a member of the Westminster Presbyterian Church and serves on the board of directors of Tennessee Voices for Victims, the YWCA of Nashville and Middle Tennessee, the Vanderbilt Kennedy Center Leadership Council, the Rochelle Center, Room in the Inn and the Child Advocacy Center. He has been selected as a member of the Leadership Nashville Class of 2016-2017. He and his wife, Lori, have volunteered with the Special Olympics since 1994. Glenn has served on the board of directors for the Down Syndrome Association of Middle Tennessee, Dismas House, and The Arc Davidson County, an organization that represents children and adults with intellectual and developmental disabilities. He was named 2014 'Man of the Year' by The Tennessee Tribune newspaper for his work toward enhancing diversity in the District Attorney's Office.
Glenn graduated Cum Laude from Wake Forest University. He then attended law school at the University of Mississippi and began his legal career in 1985 as an assistant public defender in Shelby County Tennessee. Glenn joined the Davidson County District Attorney's Office as an assistant district attorney in 1986 before starting his own law practice in 1989. He has been called to serve as a special prosecutor in cases where other district attorneys had a conflict of interest.
Glenn believes in public service, fairness and justice for all. He is committed to making our community safe, standing up for what is right, and giving victims the justice they deserve.