The Vehicular Crimes Unit is comprised of four Assistant District Attorneys and one unit secretary. This unit is partially funded by the Tennessee Highway Safety Office.  These Assistant District Attorneys prosecute all DUI offenses that proceed to Criminal Court from General Sessions. This includes vehicular assault, vehicular homicide and other criminal traffic related offenses.    This unit works closely with the Metro Police Department Traffic Operations Division and Mothers Against Drunk Drivers (MADD) in order to improve safety on the roads. These ADA's regularly assist Tennessee Highway Safety Office on training Law Enforcement personnel on how to conduct Driving Under the Influence investigations from roadside to trial preparation.
---
The 2021 Crashes by the Numbers chart below shows more than 6,000 alcohol-related crashes resulting in more than 1,300 deaths. One in three fatal crashes involved a DUI.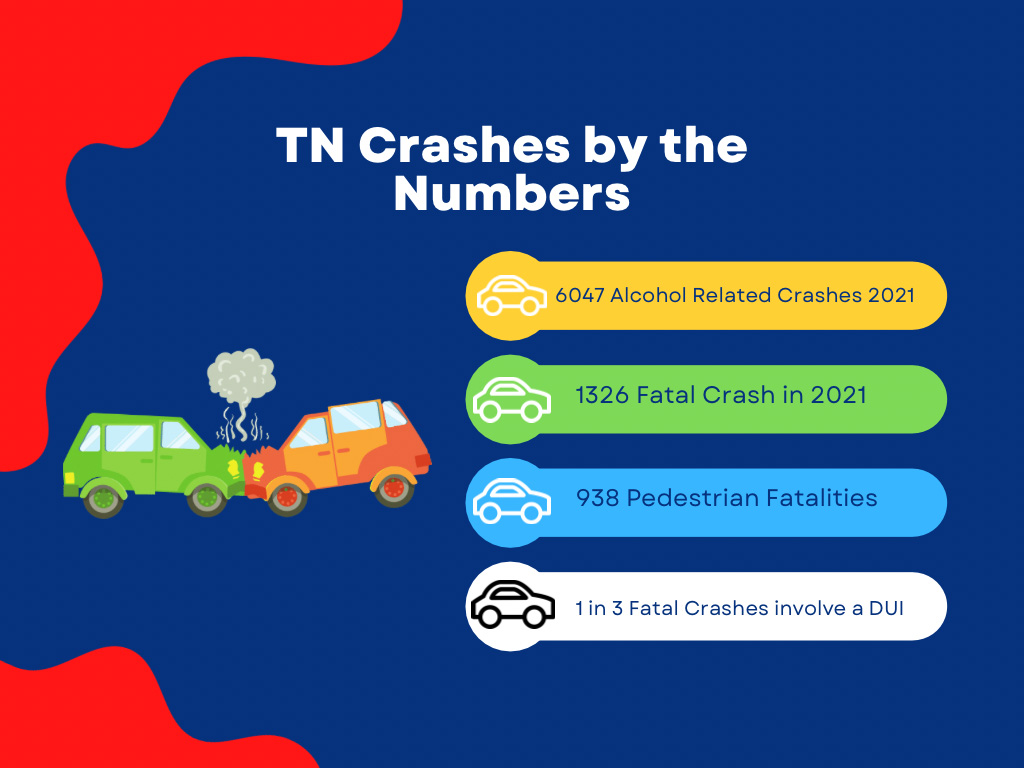 ---
Meet the Team:
Laney Heard, Vehicular Crimes Team Leader and Felony Vehicular Crimes Prosecutor
Laney grew up in the Sunshine State of Florida, moved to Nashville to attend Vanderbilt University and fell in love with Music City.  After graduating law school at University of Miami, she returned.  Laney handles all Vehicular Homicides by Intoxication, Vehicular Assaults, and Impaired Driving Felonies.  She is team leader and was named 2021 MADD Statewide Prosecutor of the Year.
Charles Yarbrough, DUI Prosecutor
Charles serves as one of the DUI Prosecutors on the Vehicular Crimes Unit. Born and raised in Nashville, Charles attended Tennessee Tech University before obtaining his law degree from Belmont University College of Law.
Seth Colón –  Vehicular Crimes  Prosecutor
Hailing from the Golden State, Seth grew up for most of his life in Southern California and moved to Tennessee in 2008. He obtained his B.S. in Political Science: Legal Studies from the University of Tennessee at Chattanooga, and received his J.D. from Belmont University College of Law.
Seth's hobbies include spending quality time with his wife and pup, cooking up new recipes in the kitchen, and playing new games on his PS5.
Samantha Dotson