The District Attorney General
"The District Attorney's Office is committed to public service, fairness and justice for all. Our focus is on protecting vulnerable victims from violent crimes and to make sure victims have the best lawyer in the courtroom. Our mission is to make Nashville a safe place to raise a family and grow a business." –Glenn R. Funk, District Attorney
The District Attorney General for the 20th Judicial District is responsible for the prosecution of all alleged violations of state criminal laws that occur within Metropolitan Nashville and Davidson County. Both felony and misdemeanor crimes are prosecuted by the District Attorney's Office as well as the criminal acts of juveniles (persons less than eighteen (18) years of age). District Attorney General Glenn R. Funk was sworn in to office on August 28, 2014. He became Davidson County's 36th District Attorney and only the third since 1966. Under his leadership, the District Attorney's Office is focused on prosecuting violent crime in our community and protecting vulnerable victims.
Nashville's DA Says There are Three Things We All Can Do to Stop Domestic Violence
As a candidate for District Attorney, Glenn Funk was elected on a platform of bringing renewed attention to the issue of domestic violence in our community. His Domestic Violence Action Plan contains three important and essential elements: Openness and Transparency, Victim Support and Partnerships with law enforcement agencies.
It is both a blessing and a disgrace that the nation's attention has again been turned to the issue of domestic violence. While it is important that we engage in open and honest dialogue, recent high profile cases are a reminder there are still too many people suffering at the hands of an abusive spouse or partner. Here in Davidson County, half of all violent crime is related to domestic violence. It is essential to our quality of life that we change the culture surrounding this crime.  More…
---
Nashville's Newest Court To Aid Prostitutes By Treating Them As Victims, Not Criminals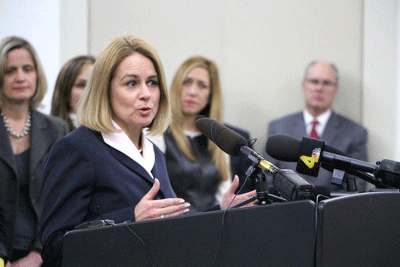 Nashville becomes just the fifth city in the country to create a specific court process for victims of human trafficking. It puts less emphasis on criminal punishment and more on treatment.
Police and prosecutors will work harder to identify trafficking and offer victims up to a year of counseling, housing, or drug treatment. If they complete the program, known as "Cherished H.E.A.R.T.S.," their charges will be dismissed. This is similar to a drug abuse court.
Many participants will likely be found through prostitution arrests. Those cases often reveal that victims were coerced, or trafficked. That's the difference. Anyone forced into sex will be treated as a victim — if they agree to get help, says prosecutor Tammy Meade.
"It sounds funny that sometimes somebody needs to be arrested to determine that they're a victim," Meade said.
"Not everybody's going to want to do this," she said. "One day, they're going to say, 'You know what, I can't do this anymore and I'm ready for that help.' And when that happens, we're going to be here for them."